How much does an electric bike really cost? Purchase, maintenance, accessories...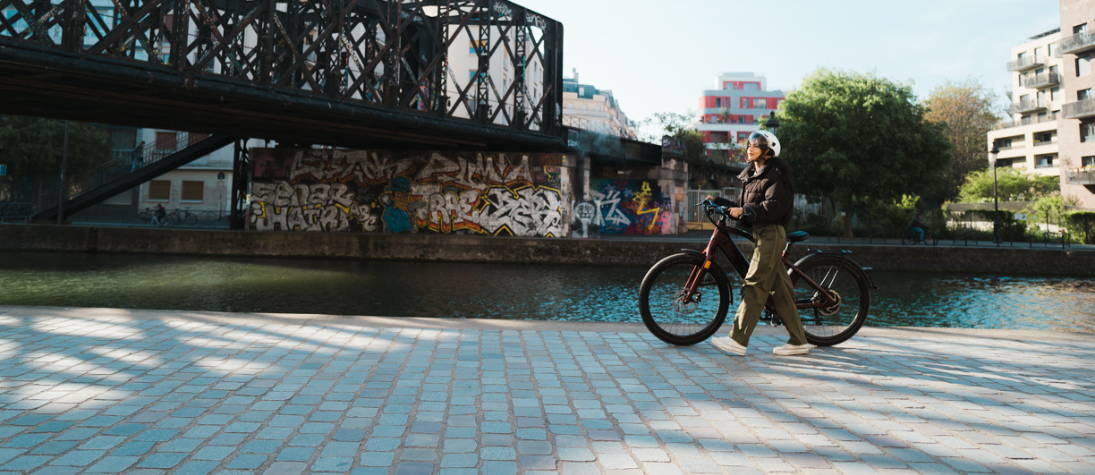 An electric bike is actually affordable!
Of course, this depends on several factors. Most importantly, it depends on the driving experience you want.
Looking for an E-bike for Sunday rides? You may spend less money than if you are looking for an electric bike for daily commuting. Do you need an e-bike for hiking? Then you'll need to buy an electric bike with more durable components: stronger frame, larger tires , stronger motor.
Many companies manufacture electric bicycles and set their own prices. How do you know if you are paying the right price for your electric bike? Does a higher cost always mean better quality?
Key questions for anyone considering investing in a VAE. Let's take stock!
Find the right price for your electric bike 
There are different types of electric bikes on the market: sport, road, hybrid, racing, off-road,... In addition to their use, the price depends on their quality, brand, use and features. That's all there is to it!
If you plan to use your bike mainly on the road, your choice should be an electric road bike or a hybrid. Forget the mountain bike!
However, if you're going to be slogging through mud, snow or rough trails, you'll probably need a MTB .
Look for reputable brands that sell reliable e-bikes with features that work for your ride. 
The price of an electric bike
Electric bikes can cost between (approximately) €1,000 and €10,000. This price depends largely on the technologies that make them up, but especially on the motor, battery, frame design and components.
Less than 1 300€ : ideal for beginners and commuters
There are models available at (relatively) low prices via sites like Decathlon, Amazon, Go Sport or Alltricks.
The less expensive the bike, the less expensive the parts must be for the manufacturer. So if you're considering an electric bike on a tight budget, you have to make compromises: lower battery capacity, reduced warranty, less durability, or basic equipment. Very average overall quality.
Don't expect to do performance with this type of EV. They are suitable for occasional, gentle riding on roads or bike paths.
Some electric bikes under 1 300€.
Decathlon Riverside 500 E
Between 1 300 € and 2 500 €: the best value for money
Most mid-range electric bikes cost between €1,300 and €2,500. They are mainly urban bikes. Perfect for daily commuting!
From 1500€, you can enjoy the first pedal motors, efficient batteries, a large autonomy and a more complete equipment.
However, you will have to invest more than 2000€ to benefit from a high-performance motor and components from major brands. This is the case, for example, of the Moustache Bikes Samedi 28 range. An excellent quality/price ratio!
Conquer the steep hills!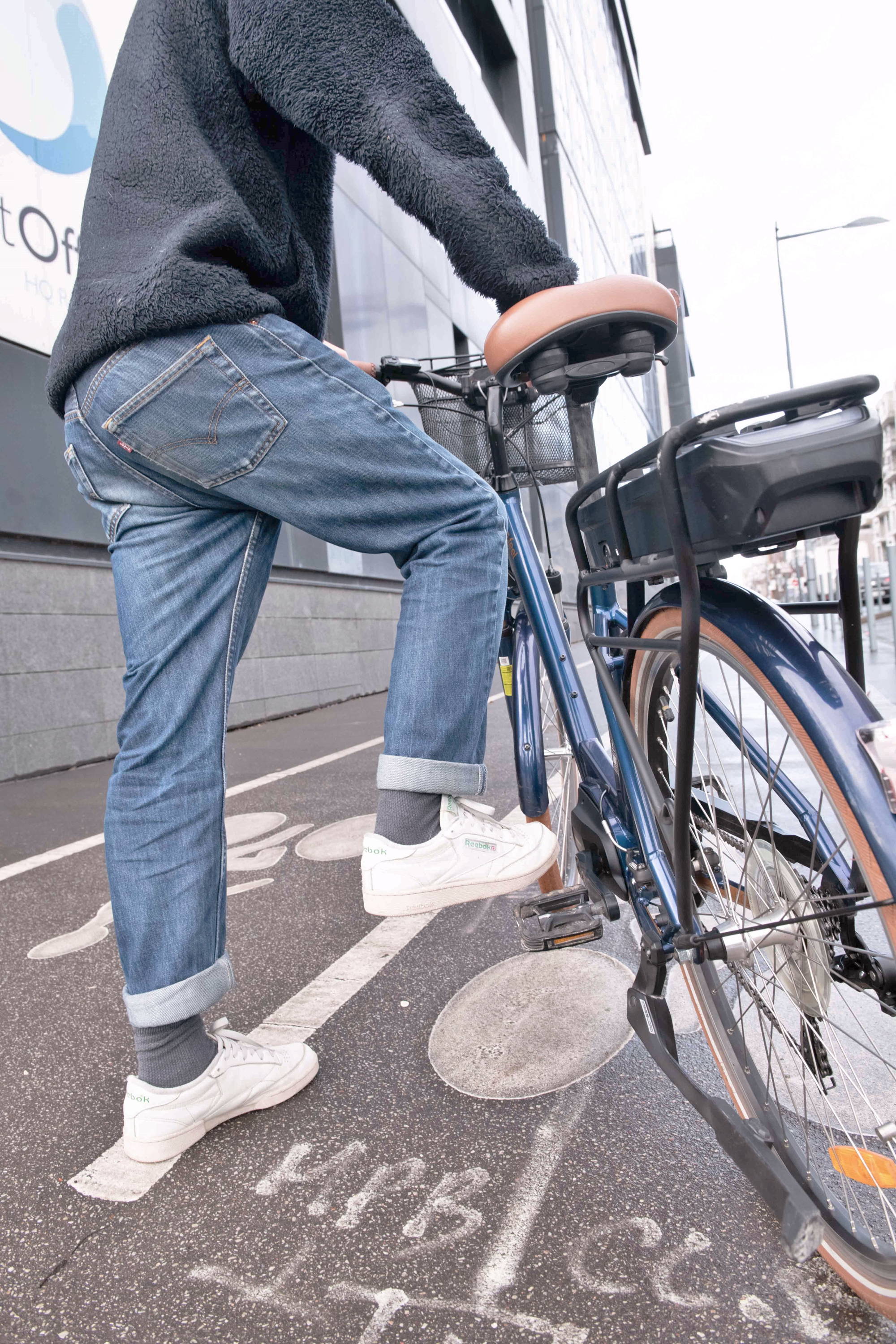 Some electric bikes between 1 300 € and 2 500 €.
Decathlon MTB Rockrider E-ST 900
Moustache Bike Saturday 28.1
Between 2 500€ and 5 000€: high-end VAE
Unsurprisingly, in this range, these are high-end electric bikes.
The muscular motors of these electric bikes are full of power and torque and are designed for performance. Add to that a long battery life, hydraulic brakes, excellent suspension and more advanced on-board computers. In general, it's comfort that's improving.
They are equipped with quality tires that can handle different types of terrain. You can cross anything! Be it asphalt, sand, mud, desert, snow or wooded hills.
In short, EVs between €2,500 and €5,000 offer you the best of both worlds: the ability to make daily trips around town, but also to embark on long weekend rides.
Moustache Bikes Saturday 27 Xroad 7
More than 5 000€ : for sportsmen
The most expensive electric bikes are usually reserved for enthusiasts and sportsmen. They are EABs with high-end components, assembled through complex engineering. They have a motor, autonomy, lightness, rigidity and exceptional braking performance.
High-end components and engineering can push the price of an electric bike beyond €10,000.
We mainly find in this price range: cargo bikes, MTB, trail bikes or mountain bikes.
Some electric bikes between 2 500€ and 5000€.
Cube Stereo Hybrid 140 HPC
Moustache Bikes Saturday 29 Trail 11
Riese & Müller Superdelite mountain rohloff
Price of an electric bike: summary table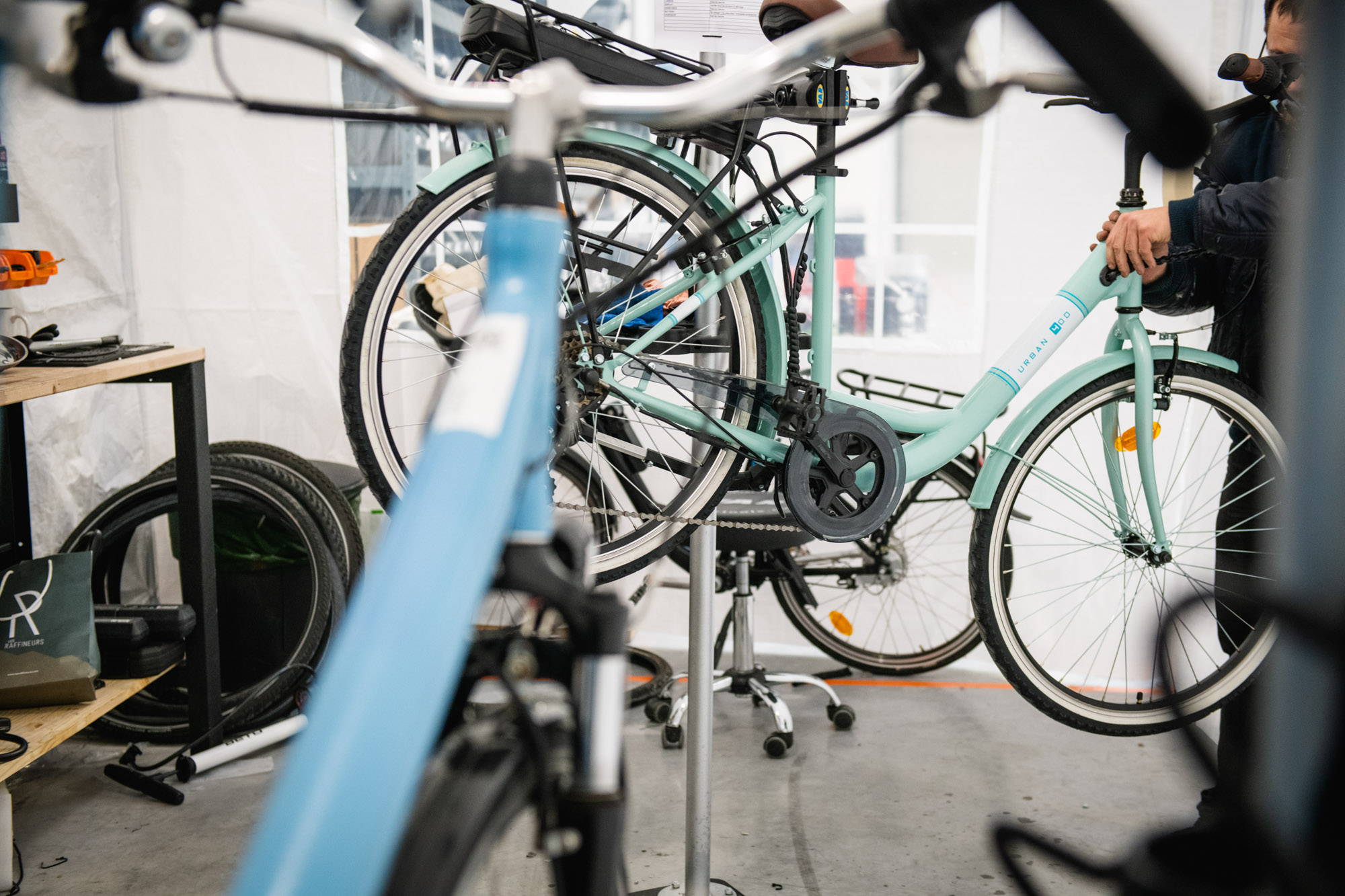 Low quality, models intended for occasional use for short trips, attention to the life of the equipment
Correct quality, prefer known brands
Excellent quality, for very regular use
All-terrain electric bikes, but above all exceptional, for connoisseurs and sportsmen.
Thanks to Upway's reconditioning, however, it is possible to pay less than 1,000€ for an electric bike that is usually in the higher price and quality ranges. 
Thanks to the meticulous work of our professional mechanics, we can offer you a very wide selection of inexpensive ebikes, in condition as close to new as possible. Can't afford the ebike of your dreams? Choose a model from refurbished and benefit from a top-quality product at a reduced price.


Factors that influence the price of an electric bicycle
The performance and power of an electric bike's motor plays an important role in the overall cost of the EAB. Basically, the more powerful the motor, the more expensive the bike. The motor uses the energy from the battery to help the rider pedal.
The decision to buy a more or less powerful motor depends mainly on the type of outing you plan to make.
If you're climbing hills, you'll need a powerful motor that can propel you quickly without much effort. In this case, it's probably a good idea to invest in a more expensive bike with a more powerful motor.
The price of some engines :
Bosch Performance Line CX 250W 36V
Brose pedal motor 250W 36V
Yamaha PXSeries TE Engine
Ask yourself: do I need a bike that can travel long distances per charge?
If the answer is yes, go for a battery with a long life. Depending on the brand, the price varies between 250 € and 1 000 €.
A Bosch battery costs on average 700 €, while a Nakamura battery costs on average 400 €.
The price of some batteries
Shimano E8000 Supercore 37V 20Ah battery
Prices vary depending on the weight and frame of the bike. However, this does not mean that weight and frame strength are always correlated.
Carbon fiber frames are more expensive than aluminum frames. This is because they are lighter, more reliable and stronger. Other materials such as titanium, steel and even bamboo have an impact on the cost of an electric bike.
Manufacturers are striving to build models with aerodynamic frames that have lower wind resistance while still meeting UCI standards. Electric bikes with perfect geometry will tend to be more expensive.
All to give you a better riding experience. The more comfortable and maneuverable your bike is, the more you can rely on it.
Smart LED technology, lights, turn signals, fender, luggage rack and other accessories will usually come at an additional cost.
If you only want to enjoy the thrill of the ride, without burning a hole in your wallet, don't expect to get many of these extra components.
An EAB with a display visible at any time of the day (this is very important), showing your speed and battery level will be sufficient for most users.
There is one more thing to keep in mind! Besides the specifications and base price of an electric bike, there are always recurring costs that you will need to consider.
If you buy a cheaper electric bike just because it's cheaper, you may be faced with a lot of unwanted costs: more frequent flat tires, motor problems, battery failure... In the end, it could cost you more than going with a slightly more expensive model.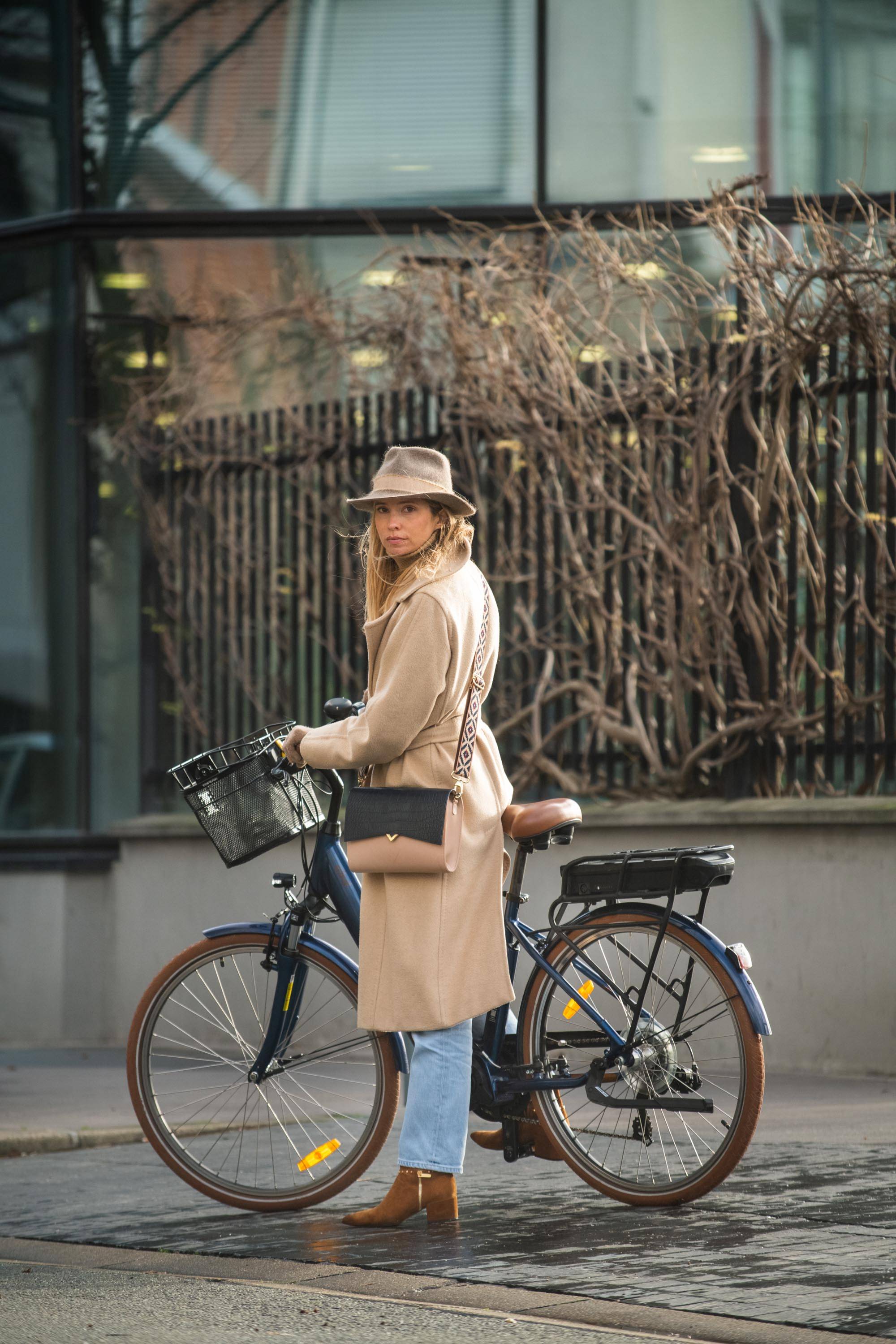 To prevent the potential theft of your electric bicycle, there is nothing like an anti-theft device.
There are different kinds. For an anti-theft device of the very famous brand Kryptonite, count between 50 and 100€ according to the models. For an approved anti-theft device with a cable of one meter or more, count about 50 euros. Ideal if you park your bike outside.
To effectively dissuade thieves, you can also opt for an anti-theft device with an alarm. How does it work? Thanks to its motion detector, it emits a 100 dB sound signal when it detects suspicious movements. With a duration of 15 seconds, the anti-theft device will wake up the whole neighborhood. In addition, you will be warned of the attempted theft on your smartphone. Count on average 90€ for this device.
Insurance is not mandatory but is highly recommended.
Without insurance, in case of damage or theft in a public parking lot or on the street, you will not be compensated.
With an urban EAB, it is recommended to budget for an insurance policy. The costs vary according to the value of the electric bicycle and the guarantees provided.
For example, for a bike worth 3000€, you will have to plan for an insurance of about 20€ per month.
Speed bikes, on the other hand, require mandatory registration and insurance.
As for any leisure activity that presents a risk, it is advisable to equip yourself with the best safety equipment, especially a certified helmet to protect your head. You will find them between 35 € and 200 €.
If you're going to be climbing a mountain pass, for example, it's a good idea to get elbow pads, knee pads and maybe even shin guards if you're going downhill.
You minimize the risk of injury!
In addition to safety equipment, you can also equip your EAB with cool accessories. These can befunctional and useful (a rear bike rack, a pair of glasses or turn signals), necessary (a Bluetooth smart lock or an anti-theft device) or just plain fun (lights for tires).
Consider the cost of maintenance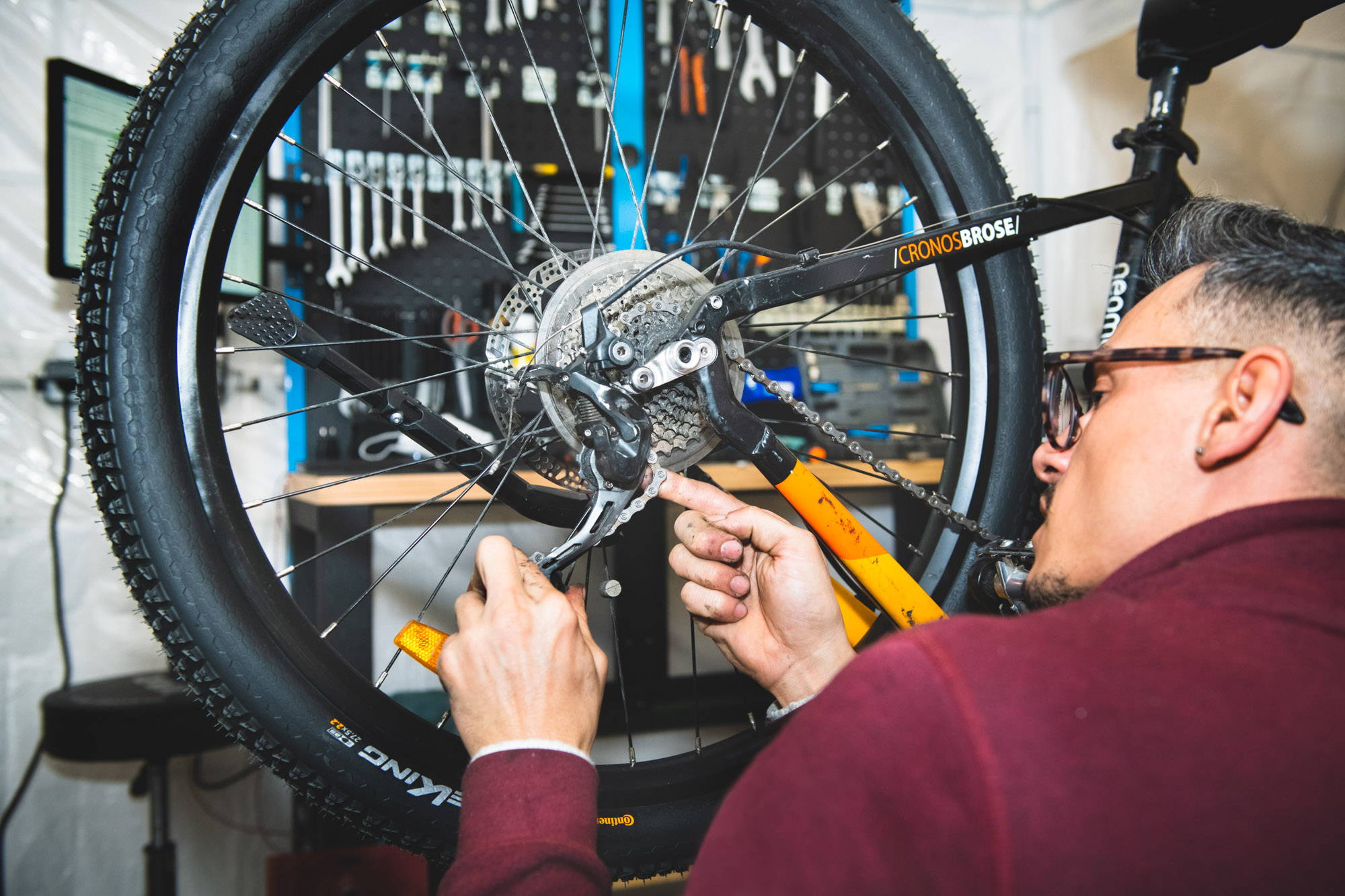 Electric bikes tend to wear out just like conventional bikes. But they have many more components that can deteriorate: the motor, the battery, the gearbox/derailleur, the brakes... If you are going to use it as your primary means of transportation, it will need to be properly maintained to last.
To prolong the life of your e-bike, you'll need to perform regular, proactive maintenance (e.g. every 500 miles). It's worth the effort.
Here is a quick list:
A tune-up every 6 months is recommended. This can cost between 60 € and 120 €.

Repairing a punctured tire costs between 20 € and 50 €, depending on the severity of the repair.
Brake adjustment costs between 10 € and 40 €.
The maintenance of chains and sprockets costs between 90 € and 110 €.
The diagnosis of the electrical system costs between 30 € and 50 €.
Cables and sheaths cost between €15 and €25.

Tip: Look for electric bikes marked as "easy to maintain".

Consider the cost of charging the bike
Rest assured, recharging an electric bike costs considerably less than paying for gas! That's one of its attractions!
One of the recurring costs associated with electric bikes is the cost of recharging the battery. It's a common question, but the math isn't that complex, if you do a little math.
Don't worry, we'll make it simple!
First, find the battery voltage and amp hours of the electric bike. Use these numbers to get watt-hours. For example, a 36V 10Ah battery has 360 watt-hours, or 0.36 kilowatt-hours (kWh).
Take a look at electricity prices. This varies depending on the supplier. The average cost per kWh in Belgium in November 2022 is about € 0.1740 incl. VAT.
0.36 kWh x 0.1740 = 0.06264
Verdict: it takes a little less than 0,07€ to fully charge a 36V 10Ah battery.
Batteries are designed to have a long life, but they can eventually wear out.
No need to panic! You'll know when your battery needs to be replaced. It won't give you as much life per charge.
The best batteries will keep you informed of their current capacity and the number of charge cycles already used.
Each battery has a lifespan of 3 to 6 years, depending on usage.
Changing the battery costs on average between 300 and 600€.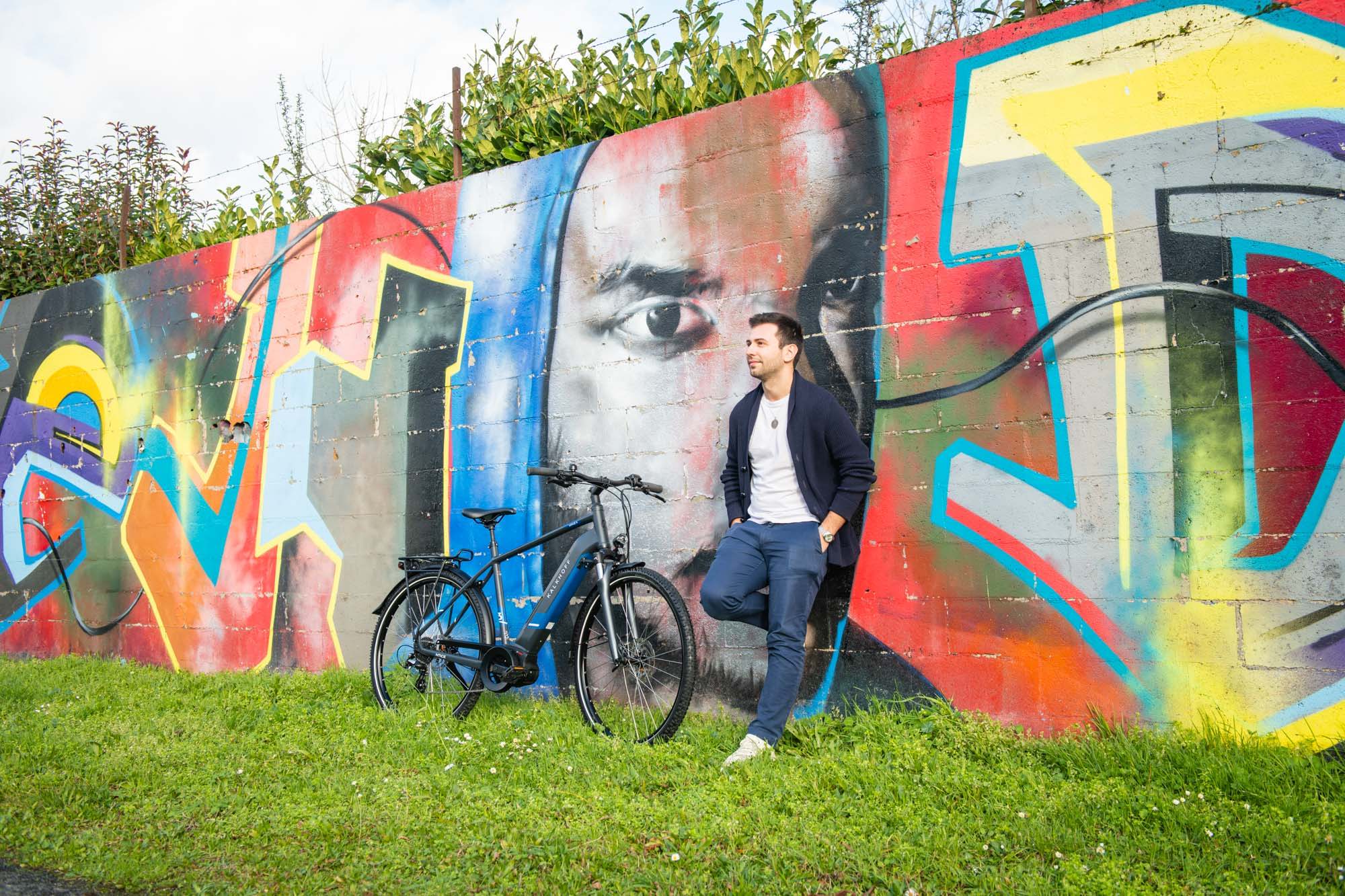 What is the average price of an EAB ?
In 2020, the average purchase price of an EV was €2,079 according to Cycles and Union Sport.
However, it's always a good idea to invest in a model with a good price/performance ratio. That doesn't mean you have to pay an arm and a leg for it. You just need to know where to look and what features to pay attention to.
Who is eligible for the incentives for the purchase of an EV in Belgium?
The Belgian government has set up a system of purchase bonuses to help you buy an electric bike if you live in the Walloon region. They are granted at the regional or local level and can be cumulated. The conditions of attribution vary from one institution to another.
On the other hand, the Flemish region does not currently offer a bonus or tax reduction for the purchase of an electric bicycle. Only a financial compensation of 0.23€ net per kilometer travelled exists and can be paid by your employer when you go to work by EV.
Are Upway reconditioned electric bikes eligible for purchase incentives in Belgium?
All Upway electric bicycles are eligible for the Brussels-Capital Region's electric bicycle premium, as well as that of the Walloon Region, which can reach up to €1,250. 
However, some municipal subsidies require new bicycles. Eligible Upway electric bicycles can be found here.